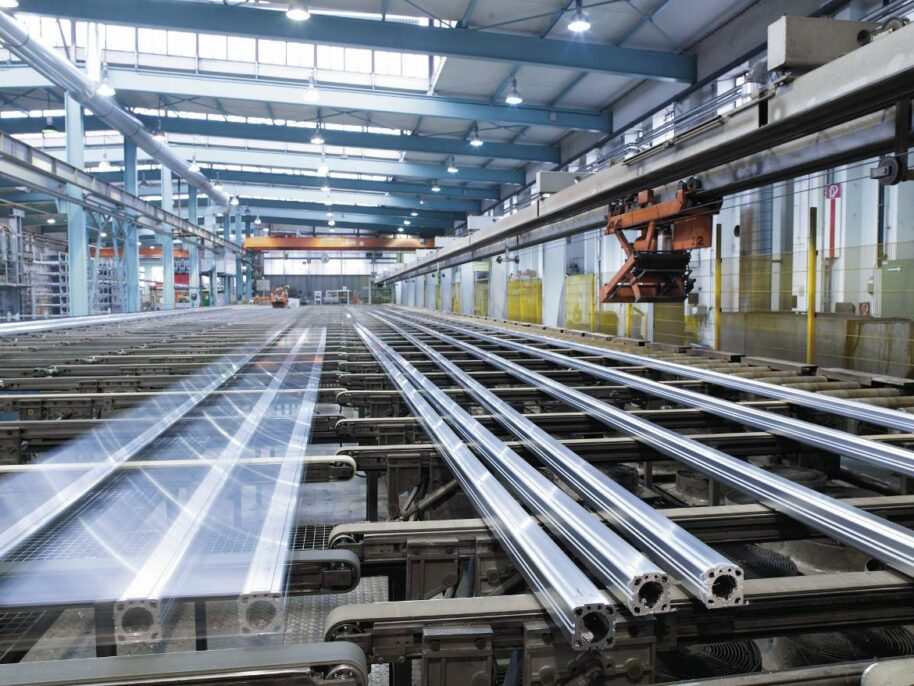 Hammerer Aluminium Industries reacts with large investment package at full capacity
CEO Rob van Gils: "We will be investing 30 million euros in expanding and modernising our facilities in 2018."
In 2017, record order receipts generated an increase in sales to nearly 500 million euros
Ranshofen, (8 Feb. 2018) – Aluminium specialist Hammerer Aluminium Industries (HAI) based in Ranshofen, Upper Austria, will be implementing an investment package amounting to 30 million euros in 2018. "Following record order receipts and a jump in sales to almost 500 million euros last year, we will be implementing one of the largest investment packages in the company's history this year," HAI CEO Rob van Gils announced.
All company divisions will benefit from the investment package
"We are happy to have very good demand in all three of our strategic business divisions: transport, construction and industry. And all three divisions will be taken into account in our investments," Rob van Gils explained. "The investments show our willingness to continue growing together with our customers, to continue counting on highest product quality, and to continue enhancing our claim to leadership in the area of technological expertise."
Hall 4.0 with a high-tech production line to be built in Ranshofen
The largest investment is being made at the company headquarters in Ranshofen: A fully automated production line will be installed here in the completely new, soon to be constructed, 4,000 m² hall. "With the major investment in our Hall 4.0, we are creating a high-end production line on the Ranshofen site, which will manufacture products of the highest quality for the highly promising e-mobility sector," Rob van Gils explained. In order to create new capacity, our now long-in-the-tooth 27 MN (meganewton) press will be replaced at the end of the year with a modern, larger 40 MN extrusion press. The Ranshofen investment package will be rounded off with a 6,300 m² solar thermal system that will generate 1.3 million kilowatt hours of green energy per year for the production plants. This corresponds approximately to the annual electricity demand of 260 family homes.
The HAI family is growing constantly – sixth site in Sprockhövel in service since December
Last year, in cooperation with the family-run business Faulenbach Eloxal, HAI founded the company WestAluTec GmbH, specialising in Eloxal surfaces, at the Sprockhövel site in the southern part of the Ruhr region. In December 2017, a newly installed Eloxal plant entered into service at what is now HAI's sixth site. "We can now also offer our customers surface treatment of the highest quality from our own in-house production," explains Rob van Gils.
Riftec GmbH, a HAI Group company specialising in friction stir welding, based in Geesthacht near Hamburg, will be moving to a new, larger, modern facility in order to better meet increasing capacity requirements. The groundbreaking ceremony for the 6 million euro project has already taken place.
At the German facility in Soest, the new 33 MN extrusion press entered into service on schedule in November 2017. At the Romanian facility in Santana, investments amounting to five million euros are currently being made to create additional capacity for extrusion billets.
HAI continues on course for healthy growth
The HAI Group continues to make successful progress on the path of healthy, profitable growth. Hammerer Aluminium Industries employs 1,140 people at six locations in Austria, Germany and Romania. Founded in 2007 with its headquarters in the Upper Austrian town of Ranshofen, the company is family-owned, so it can act completely independently of external investors. In its three production divisions of Casting, Extrusion and Processing, HAI generated sales of almost 500 million euros in 2017.