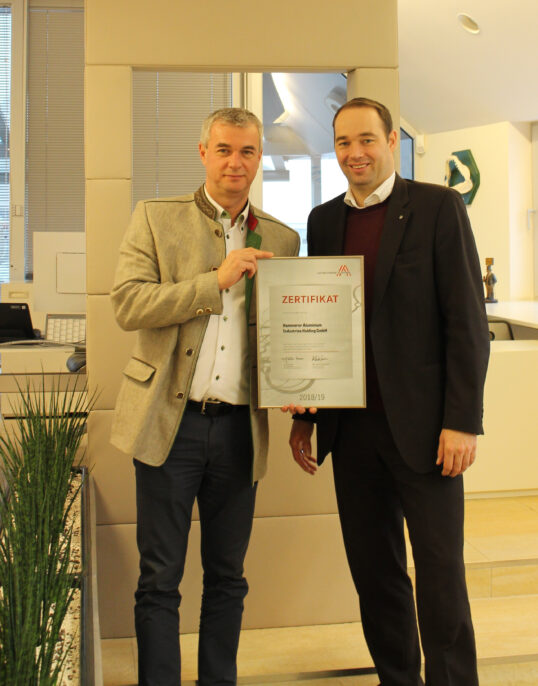 Hammerer Aluminium Industries awarded leading Austrian enterprise certificate
Globally active aluminium specialist Hammerer Aluminium Industries (HAI), based in the Upper Austrian town of Ranshofen, has been recertified as a leading Austrian enterprise: CEO Rob van Gils accepted the award from Leitbetriebe Austria representative Franz Haigl. Leading enterprises (Leitbetriebe) are exemplary companies committed to sustainable corporate success, innovation and social responsibility, which have passed a comprehensive screening process. 
"We are delighted that our Leitbetriebe Austria network is constantly growing," says Monica Rintersbacher, Managing Director of Leitbetriebe Austria. "The leading enterprises form the backbone of the Austrian economy. Thanks to their focus on sustainable corporate success, they secure tens of thousands of jobs for the long term and are an important innovation driver. "Leitbetriebe Austria supports the companies with regular events and discussions as well as targeted communication activities. 
About Leitbetriebe Austria
Leitbetriebe Austria is the excellence platform for the Austrian economy's exemplary companiesthat have been certified by the Leitbetriebe Institute.With a mission of "together we are a brand", the leading enterprises represent publicly effective, value-oriented objectives, such as innovation, growth, market position and employee development. The confidential, exchange of information on equal terms between decision makers takes centre stage in the active forum.