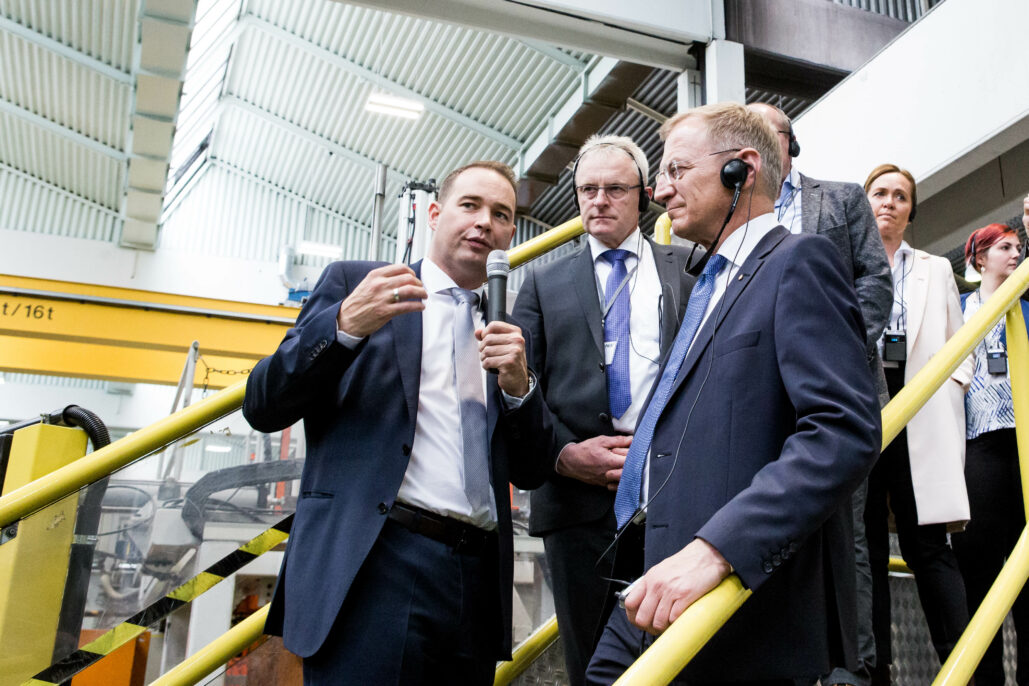 Aluminium expert fit for the future
Ranshofen (9/5/2019) – On 9 May 2019, Hammerer Aluminium Industries (HAI) opened a new production hall in Ranshofen. The Upper Austrian aluminium producer is meeting current and future requirements for leading technological expertise Made in Austria with a pioneering infrastructure.
Hall 4.0 meets the challenges of e-mobility
Covering an area of 4,000 m2, the production hall conforms to the state of the art for a high-end production line, thereby meeting the requirements for increasing digitalization as part of the Industry 4.0 trend. The new, fully automatic production line was developed and implemented in cooperation with Fill, the machinery and plant engineering company based in Gurten (Upper Austria). The growth in electromobility heralds new challenges and opportunities for automotive suppliers. Hammerer Aluminium Industries is seizing these opportunities with expertise, innovative spirit and investments in a new infrastructure, such as the newly constructed hall.
Aluminium profiles with specific material properties are being demanded by the automotive industry, in particular for e-mobility. Among other products, profiles for battery cases will be manufactured in future on the newly opened production line. These profiles feature outstanding crash-impact properties, heat resistance and a specific heat transfer profile. With this Hammerer Aluminium Industries is also securing its position for the future as an innovative partner of the automotive industry.
Opening ceremony with prominent guests and partners
Upper Austria's State Governor, Thomas Stelzer, and Braunau's Mayor, Johannes Waidbacher, were there for the opening on 9 May 2019. In a technical lecture entitled "e-mobility – a contribution to decarbonising transport", Dr Christian Chimani, Managing Director of the Ranshofen Light Metal Competence Centre (LKR), revealed the perspectives, opportunities and trends of the sector to the guests in attendance. HAI and LKR have been benefiting for many years now from their collaboration in developing high-strength crash alloys in Ranshofen for the automotive industry.
The guests of honour also included Braunau's leading priest, Dr Severin Piksa, who conducted a ceremonial blessing of the new hall.
Clear commitment to the Ranshofen site
With the opening of Hall 4.0, Hammerer Aluminium Industries is making a further clear commitment to the Upper Austrian industrial location of Ranshofen. Following investments in a 6,300 m2solar power system and a modern 41-meganewton (MN) extrusion press in 2018, opening of the new hall represents the culmination of the company's multi-year investment offensive at it's facility. "Commissioning of the new production hall in Ranshofen is a great day for the whole HAI family. The major investments of recent years are fundamentally important for us in continuing to create future-proof jobs and building on the commercial success of the HAI Group through innovation," emphasises HAI's CEO Rob van Gils.
The family-owned light metal alloy specialist can therefore justifiably take a positive view of its future position in this innovation-driven industry. 
HAI Group
Hammerer Aluminium Industries employs 1,200 people. Founded in 2007, the company has its headquarters in the Upper Austrian town of Ranshofen as well as 5 other facilities in Germany and Romania. HAI has a very special history of success. The company combines the dynamic and innovative spirit of a young enterprise with the experience of a traditional business. In its three production divisions of Casting, Extrusion and Processing, HAI registered sales of around 510 million euros in 2018.HAI Group products are not only to be found in the automotive industry, but also in the construction sector, transport technology, electrical engineering applications, machinery and plant engineering, in aviation as well as in medical technology.
Media contact:
Elfriede Dicker, Management & Marketing Assistant
Hammerer Aluminium Industries Holding GmbH
Lamprechtshausener Strasse 69
5282  Ranshofen, Austria
+43 7722 891 2540
+43 664 884 61096
elfriede.dicker@hai-aluminium.com