HAI Group expands capacity with acquisition of Hydro Extrusion plant in Romania
Chisineu-Cris (09.10.2019) – The official signing was held today for aluminium specialist Hammerer Aluminium Industries' takeover of the Hydro Cris plant in the Romanian town of Chisineu-Cris. With this acquisition, HAI is systematically expanding its capacity and taking another step forward in the strategic development of all three company divisions: construction, industry and transport.
Takeover ensures expansion in extrusion sector
With two extrusion presses over an area of 140,000 m² and 10,000 m² of building space, the new HAI facility in Chisineu-Cris offers production capacity of approximately 22,000 tonnes per annum. The urgently required capacities have been acquired to meet the growing demands of customers, with high capacity utilisation being predicted for 2020 and 2021. These capacities in the extrusion sector relieve the plants in Soest and Ranshofen, enabling further growth there with longstanding existing customers.  
New facility strategically significant 
With its acquisition of the new plant in Romania from Hydro Extrusion S.R.L, HAI is undertaking an investment that makes sense in many respects. Located about 20 km from HAI's Santana plant, the new facility does not just offer synergy effects with the existing subsidiary. "We have taken over a well-oiled infrastructure, as well as 200 employees and their know-how. That makes this investment much more calculable and lower risk than a new development on a green-field site," emphasises HAI CEO Rob van Gils.
The new premises was already supplied with extrusion billets from HAI's Santana plant, so the takeover has now further deepened the value-added chain in Romania for the HAI Group. The HAI Group has taken over the new facility with a sound basic level of capacity utilisation.  
This means that the European aluminium expert based in the Upper Austrian town of Ranshofen remains on course for continued growth. Another milestone in the consistent growth strategy of the HAI Group. The acquisition increases the size of the workforce to approx. 1400 employees at seven sites. With a total of 10 extrusion presses, HAI now has an extrusion press capacity of some 100,000 tonnes per annum. In combination with an annual foundry capacity of 200,000 tonnes, this underlines HAI's claim to be one of the leading companies in the European aluminium industry.
Following today's signing, the deal is expected to be closed by the end of this year, subject to confirmation of compliance with antitrust legislation.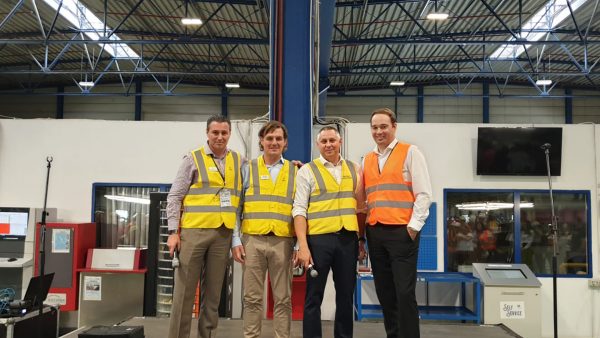 v.l.t.r.: Mauro  Spizzo / Vice President East Europe (Hydro), Bruno D'hondt / Head of Extrusion    
 Europe (Hydro), Cornel Lina / Managing Director România (Hydro), Rob van Gils / CEO HAI Group

HAI übernimmt das Hydro Strangpresswerk im rumänischen Chisineu-Cris
Hydro
Hydro is a global aluminium player, with 35,000 employees and operations in 40 countries all over the world. Hydro is involved in all steps of the aluminum value chain, from extracting bauxite and refining alumina to producing primary metal and offering specialized products to a wide range of industries. Hydro Extruded Products is a leading global producer of extruded products, with total sales volumes of around 1.4 million mt per year. 
HAI Group 
Hammerer Aluminium Industries employs 1,200 people. Founded in 2007, the company has its headquarters in the Upper Austrian town of Ranshofen as well as five other facilities in Germany and Romania. HAI has a very special history of success. The company combines the dynamic and innovative spirit of a young enterprise with the experience of a traditional business. In its three production divisions of Casting, Extrusion and Processing, HAI registered sales of around 510 million euros in 2018. HAI Group products are not just found in the automotive industry but also in the construction sector, transport technology, electrical engineering applications, as well as machinery and plant engineering. 
Media contact:
Elfriede Dicker, Management & Marketing Assistant
Hammerer Aluminium Industries Holding GmbH
Lamprechtshausener Strasse 69
5282 Ranshofen, Austria
+43 7722 891 2540
+43 664 884 61096
elfriede.dicker@hai-aluminium.com