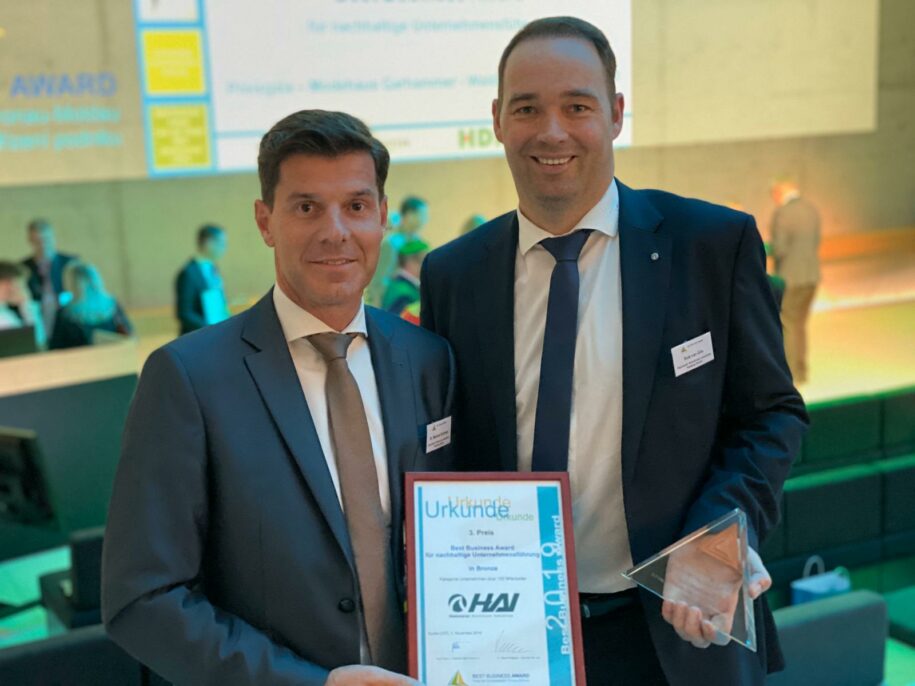 HAI wins Best Business Award
Aluminium expert, Hammerer Aluminium Industries (HAI) from Ranshofen, was honoured with the Best Business Award in bronze on 5/11/2019. HAI's managing directors accepted the award for sustainable corporate management at the prize-giving ceremony in the Fill Future Dome (Gurten).
Award for sustainable company management
The Danube-Vltava region's Best Business Award is one of the most prestigious business awards in Europe. HAI won over the jury in the "companies with more than 100 employees" category and earned the BBA in bronze.
The Best Business Award is consciously dedicated to the field of sustainable corporate management. Sustainability is defined by the region as ecologically, economically and socially sustainable action. And it is precisely this balance that motivates the senior management of Hammerer Aluminium Industries (HAI). All the greater was therefore the delight of HAI's two CEOs, Rob van Gils and Markus Schober, to receive the Best Business Award in person in Gurten.
High-calibre patronage
On the 20th anniversary of the Best Business Awards, the significance of this accolade was underlined by the high-calibre guest list. The high-profile patrons, Mag. Doris Hummer (President of the Upper Austrian Chamber of Commerce) and Bernd Sibler (Bavarian Minister of State for Science and Art), presented the award in person and took the opportunity to exchange views and ideas with the companies.