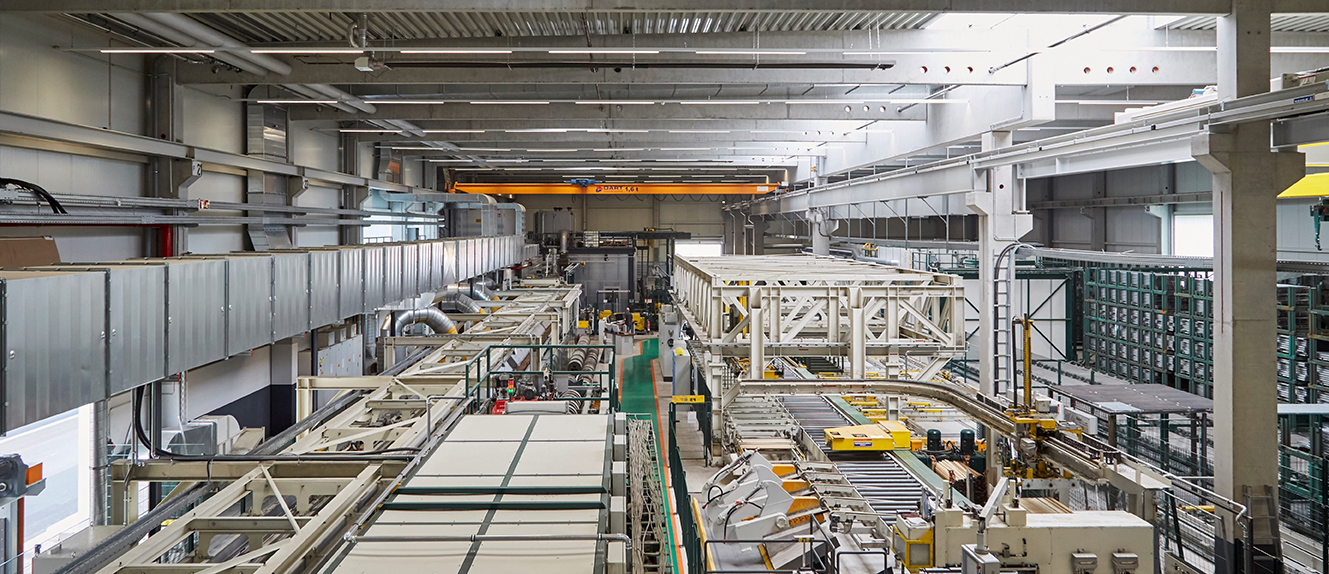 HAI Extrusion Germany opens new production hall in Soest
On 15 June 2018, HAI Extrusion Germany GmbH marked the opening of its newly constructed production hall at the Soest facility with a plant commissioning ceremony. With an investment amounting to € 14 million, HAI Extrusion Germany is sending a strong message at the Soest site.
New extrusion press line a strategic investment
A 3300-tonne aluminium extrusion press has entered into service in the new 200-metre long production hall P33 in Soest. The HAI Group now has eight extrusion lines at its disposal for the production of high-quality aluminium profiles. This expansion in Soest means that HAI can offer its customers in the construction and industry sectors even better support with their risk management.
The Soest facility is regarded as a pioneer in the field of lightweight aluminium construction for the automotive industry. The company believes that there is further potential for long-term growth in this area, spurred on by the expansion in capacity, which also makes it well prepared for the future in the construction and industry sectors. 50 to 60 new jobs will be created at the new building in Soest. As a family-run business, healthy, consistent growth is very important to the HAI Group.
Commissioning ceremony with prominent guests
The new production hall and its extrusion press plant were integrated into production operations on the Soest site at a commissioning ceremony on Friday 15 June 2018. This important day for the industrial location was celebrated together with HAI by high-ranking political representatives. The celebrations were not only attended by Deputy District Administrator Dr Günter Fiedler, but also by the Mayor of the City of Soest, Dr Eckhard Ruthemeyer. The worlds of politics and business together set a strong sign for expansion of the Soest industrial location. Representatives from the construction and plant engineering industries also celebrated this significant day with HAI.
HAI workforce celebrates with family party
The expansion of the facility was also celebrated heartily by the HAI workforce. At a large HAI family party on 16 June 2018, employees had the opportunity to visit the new hall with their families. A colourful entertainment programme was on offer for the children. Around 500 guests attended the HAI family party. As a particularly family-friendly company, HAI considered it important to share this day with the families of the HAI workforce.
Contact:
Elfriede Dicker
Management Support & Marketing Assistant
elfriede.dicker@hai-aluminium.com
0043 7722 891 2540
0043 664 884 61096
elfriede.dicker@hai-aluminium.com