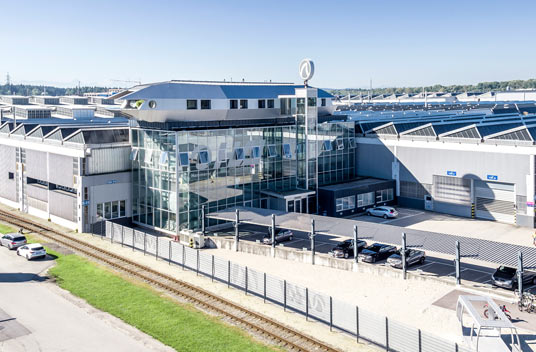 HAI Extrusion & Processing in Ranshofen certified according to ASI Performance Standard
Hammerer Aluminium Industries has achieved certification to the ASI standard in the extrusion and processing areas in Ranshofen. One of the highest industry standards emphasizes the dynamism of HAI's sustainability strategy.
Ranshofen (20.06.2022) – Following the two company-owned foundries in 2020, aluminum expert Hammerer Aluminium Industries (HAI) has now also achieved the Performance Standard certification of the Aluminum Steward Initiative (ASI) in the areas of extrusion and processing at its Ranshofen site.
High dynamics in the sustainability strategy
The HAI Group is pushing all possibilities to actively promote decarbonization. The certification of extrusion and processing in Ranshofen according to the ASI standard is another important development, as COO Markus Schober emphasizes: "In view of our high motivation to continuously improve and sustainably design our business processes along the entire value chain, we are very proud of the ASI Performance Standard certification for the Extrusion and Processing divisions in Ranshofen. After the certification of our two foundries in 2020, this is the next step to contribute to a better future and to use aluminum as part of the solution for the EU Green Deal."
59 criteria for sustainability checked by TÜV Rheinland
During the independent audit by TÜV Rheinland Cert GmbH, the extrusion and processing departments at HAI in Ranshofen were checked for compliance with 59 criteria. External auditors check the criteria within the sustainability pillars 'corporate governance', 'environment' and 'social affairs'.
The HAI Group is proud that, in addition to the two foundries, processing and extrusion at the Ranshofen site have now also been successfully certified according to one of the strictest sustainability standards in the industry.
HAI is an innovation driver in the industry with its complete aluminum solutions. Sustainable corporate management forms a central pillar of its corporate strategy and also plays an increasingly important role for customers.
The HAI group
Hammerer Aluminium Industries employs about 1,900 people. The company was founded in 2007 and has its headquarters in Ranshofen in Upper Austria as well as seven further locations in Germany, Romania and Poland. HAI can look back on a great success story. It combines dynamics and the innovative spirit of a young company with the experience of a traditional business. For 2021 HAI has a turnover of 649 million euros in the three production areas Casting (foundry), Extrusion and Processing (mechanical further processing). The products of the HAI Group can be found in the construction sector, automotive, transport and electrical engineering as well as mechanical and plant engineering.
Media contact:
Elfriede Dicker, Assistenz GF & Marketing HAI-Gruppe
Hammerer Aluminium Industries Holding GmbH
Lamprechtshausener Straße 69
5282  Ranshofen, Austria
0043 7722 891 2540
0043 664 884 61096
elfriede.dicker@hai-aluminium.com