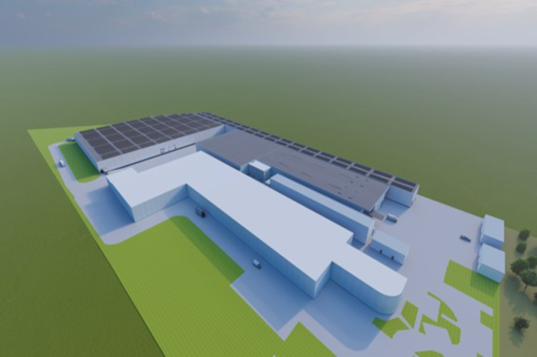 HAI Group celebrates groundbreaking ceremony at Cris site (Romania)
Hammerer Aluminium Industries celebrates the official ground-breaking ceremony for the capacity expansion with a 40 MN extrusion line at the Cris site (Romania) on 27.04.2023. The investments in Cris are part of a 125 million euro investment package for the entire HAI Group.
Ranshofen (27.04.2023) – Aluminium expert Hammerer Aluminium Industries (HAI) is focusing on investments and capacity expansions at all HAI Group sites. The official groundbreaking ceremony for the expansion took place on 27.04.2023 in Cris (Romania).
Capacity expansion through a new 40 MN extrusion line in Cris
At the Romanian site in Cris, investments are being made in a highly automated extrusion line with the associated infrastructure, thereby significantly expanding production capacity. In Cris, production is designed for high-quality products for the solar, construction and industrial sectors. "With the new production plant, urgently needed capacities are being developed in order to be able to accompany customers in their growth in the coming years with an already very high capacity utilisation," sums up Rob van Gils, CEO of the HAI Group.
In addition to the new extrusion line, the new 25,000 m² hall will also provide more space for processing and logistics at the site. Beside the main hall, there will also be 5 more buildings built to accommodate different auxiliary functions, roads and concrete platforms. The total built area of these will be 32.300 m², practically doubling the size of the plant in Cris. A large photovoltaic system on the roof will generate green electricity for sustainable production in Cris.
Excellent location development since takeover by HAI Group
Since the HAI Group took over the site with 200 employees in 2019, the team in Cris has doubled with a current level of around 400 employees. In addition to technical investments, HAI attaches great importance to optimal knowledge transfer between the HAI sites. By manufacturing high-quality products for solar, construction and industry, the Cris site perfectly complements the strategic orientation of the HAI Group.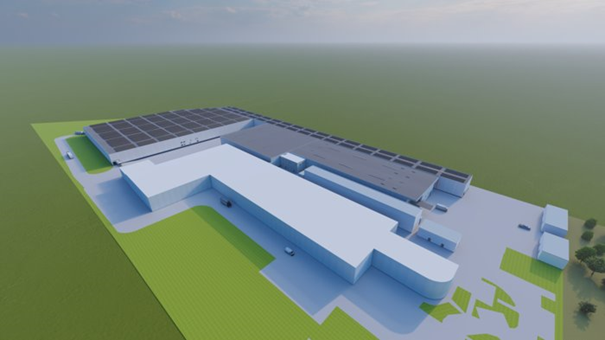 The new hall at the HAI site in Cris includes all areas with PV system on the roof
Fotocredit: HAI
The HAI Group
Hammerer Aluminium Industries employs 2,000 people. Founded in 2007, the company has its headquarters in Ranshofen, Upper Austria, and eight other locations in Germany, Romania and Poland. HAI looks back on a special success story. Here, the dynamism and innovative spirit of a young company are combined with the experience of a traditional business. In 2022, HAI realised a turnover of 990 million euros in the three production areas of casting, extrusion and processing. The products of the HAI Group can be found in the construction sector as well as in automotive and transport technology, electrical engineering and mechanical and plant engineering.
Media contact:
Elfriede Dicker, Management Assistant & Marketing HAI-Group
Hammerer Aluminium Industries Holding GmbH
Lamprechtshausener Straße 69, 5282 Ranshofen, Austria
0043 7722 891 2540, 0043 664 884 61096
elfriede.dicker@hai-aluminium.com